TL;DR
We took a day trip and explored Shosenkyo Gorge (御嶽昇仙峡) in Chichibu Tama Kai National Park near Kofu, Yamanashi. ~3 hour bus ride out from Shinjuku, Tokyo, it's famous for its autumn foliage. Highly recommended off the beaten path destination! Are there any places in Japan that you're curious about? Let us know below and maybe we'll explore it or message us to come join us!
We day tripped out to Shosenkyo Gorge to see the autumn foliage!
Sara and I took a day-trip out of Tokyo to Kofu, Yamanashi to see the autumn leaves at Shosenkyo Gorge. We would definitely recommend it if you love the changing of the seasons and off the beaten path destinations not well-known to foreign tourists.
Overall recommendation
We highly recommend checking out the autumn foliage at Shousenkyou Gorge!
From Pineapples Ranking: 🍍🍍🍍🍍🍍 – 5 out of 5 Pineapples!
To be honest, we weren't sure what to expect because we haven't really traveled to places to specifically view the changing of the seasons. With that said, the weather was absolutely beautiful, the autumn colors were setting in, and we ended up with a clear view of Fujisan. We initially thought we'd be done with the gorge in an hour or two, but we ended up spending a total of 6 hours walking the gorge and hiking atop Mount Yasaburo-dake (Rakanjiyama). In short, we definitely recommend this day trip if you have an autumn day to spare.
Shosenkyo Gorge
Overview
Just north of central Kofu and part of Chichibu Tama Kai National Park, Shosenkyo Gorge is often considered one of Japan's most beautiful gorges. Nationally designated as a "Special Place of Scenic Beauty", Shosenkyo is known for its autumn foliage. A ~4 km promenade along the Arakawa River from the Nagatoro Bridge to the Sengataki Waterfall is lined with beautiful scenery of the mountain river and its named rock formations. After reaching the 30 m Sengataki waterfall, shops and restaurants line the path to the Shosenkyo Ropeway, a five-minute ride to the top provides amazing views of Mount Fuji and the rest of the Chichibu Tama Mountains. The mountain top is also one of Japan's Power Spot (more on that later).
How to get to Shosenkyo Gorge
There are a few ways to get to Shosenkyo Gorge from Tokyo. First, you need to get to Kofu Station – see the detailed options in the table below.
Shosenkyo Gorge Travel Options
| | | |
| --- | --- | --- |
| Description | Travel Time | Cost |
| Limited Express Azusa / Kaiji from Shinjuku to Kofu | ~90 min | ~¥4000 one way |
| Rapid from Shinjuku to Takao then transfer to a local train to Kofu | ~120 min | ~¥2300 one way |
| Highway Bus from Shinjuku to Kofu | ~120 min | ¥2200 one way |
| Holiday Rapid View Yamanashi | ~120 min | ¥2200 one way |
| Drive (approx from Yokohama) | ~180 min | ¥10700 Roundtrip |
Some notes on travel options:
The limited express is the fastest and most convenient, but also the most expensive, and since it's a commuter train, you'll want to reserve a seat in advance, as they typically sell out.
The only difference between the rapid and the highway bus is that the highway bus can get stuck in traffic, which can significantly increase your travel time (ie: on Sunday evening, we were quoted up to 4 hours to get back to Shinjuku).
The Holiday Rapid View Yamanashi only runs once a day and it gets a late start out of Shinjuku (9a) so we don't recommend taking this if you'd like an early start. For more details on this train, check out this detailed blog post (only in Japanese, so you'll need to run google translate on it). You can pay ¥520 for a reserved seat, but we didn't because its origin station is only 2 stations away at Kobuchizawa-eki (so it was still fairly empty when we boarded). If you do end up catching this train, make sure you know what car you're sitting in as each car is assigned to either green (first class), reserved or free seating.
We don't have a car, but a friend of ours does and they also made the trip out. They went on a weekday (Friday) and drove from Yokohama. Prices are high, but if you have a full car, could be worth it (and a fun road trip)!
Once you arrive at Kofu station, you'll need to catch a local "Green Line" bus to one of the three Shosenkyo Gorge stops. If you want to walk the gorge, catch the bus to Shosenkyo Guchi. From here, there's a 4 km hiking path along the Arakawa River to the Shosenkyo Ropeway. The lower portion of the path is paved and closed to motorists on weekends from March to November. If you're in a time crunch and want to head straight to the top, catch the bus to the Shosenkyo Taki Ue stop. As a warning, by doing this, you'll be missing a lot of the beautiful scenery.
Our itinerary
Our total time: ~12 hours
Shinjuku Expressway Bus Terminal to Kofu Station: ~2 hours on a highway bus (¥2200)
Kofu Station to Shosenkyo Guchi Stop: ~30 minutes on a local bus (¥590)
Shosenkyo Gorge: ~6 hours walking (including Shosenkyo Ropeway + Rakanjiyama + food)
Shosenkyo Taki Ue Stop to Kofu Station: ~45 minutes on a local bus (¥900)

*

Holiday Rapid View Yamanashi from Kofu Station to Shinjuku Station: ~2 hours (¥2300)
*Since this train only makes one round trip a day, we don't recommend catching this from Kofu station. We had to because there was an estimated 4 hour delay on the highway bus, and the Limited Express Azusa / Kaiji trains were sold out. We could have caught a local to Takao and then transferred to a rapid to Shinjuku. However, you don't have to transfer on the Holiday Rapid View, and there isn't much of a price/time difference.
How much money we spent total (~¥17,600)
~¥12,000 on travel for 2 from Shinjuku station and back
¥2,600 on 2 roundtrip tickets for the Shosenkyo Ropeway
¥1,000 for zaru soba (though, you should try Hōtō if this is your first time in Yamanashi)
¥2,000 on omiyage (if you are Japanese, this is a must)
Tips
If you want to get away from the tourists… This is a sweet under the radar destination – most Japanese people we spoke to in Tokyo still haven't been and saw very few foreigners.
Make sure to check the weather and live cameras. If you head over to the Shosenkyo Tourism Association site, you'll be able to see 3 different live cameras. Take a peek at these to see how far along the leaves are if you're heading for the autumn foliage.
If you go take the ropeway to the summit of Mount Rakanji (Yasaburo-dake), make sure to hike to the peak for the 360° view. There's a small hiking path that leads to amazing views atop a granite slab at the summit. It gets steep at the very top, but if you are physically able to, we would definitely recommend it.
The top of the ropeway is a Power Spot! In Japan, they use the term power spot "pawaa spotto (パワースポット) to describe a spiritual place, one where you can feel in-tune with nature or the surrounding elements. There are a lot of these in Japan (check out this map of Japan's Power Spots) and for us, they've been relaxing, beautiful and peaceful places.
If this is your first time out in Yamanashi, get some Hōtō. We were recently out here climbing Fujisan and got some then, so we didn't get any this time around. We would definitely recommend it on a cold, autumn day. I mean, who doesn't like flat noodles?!
If you have travel anxiety, we would definitely recommend getting your return trip ahead of time. Since we didn't have to be back for anything in Tokyo, we were planning on purchasing our return ticket right before we were to leave Kofu. However, the 4 hour traffic jam coupled with the fact that the Express trains were sold out left us scrambling. We can speak enough Japanese to get by, but I can imagine it being stressful. Most importantly, unlike Tokyo, there isn't a lot of English signage out in Kofu.
Photos from Shosenkyo gorge

*
*Photos are in chronological order with the first picture being from the start of our hike.
Links we used to research
Here are the links we used to research Shosenkyo (in order of usefulness).
Summary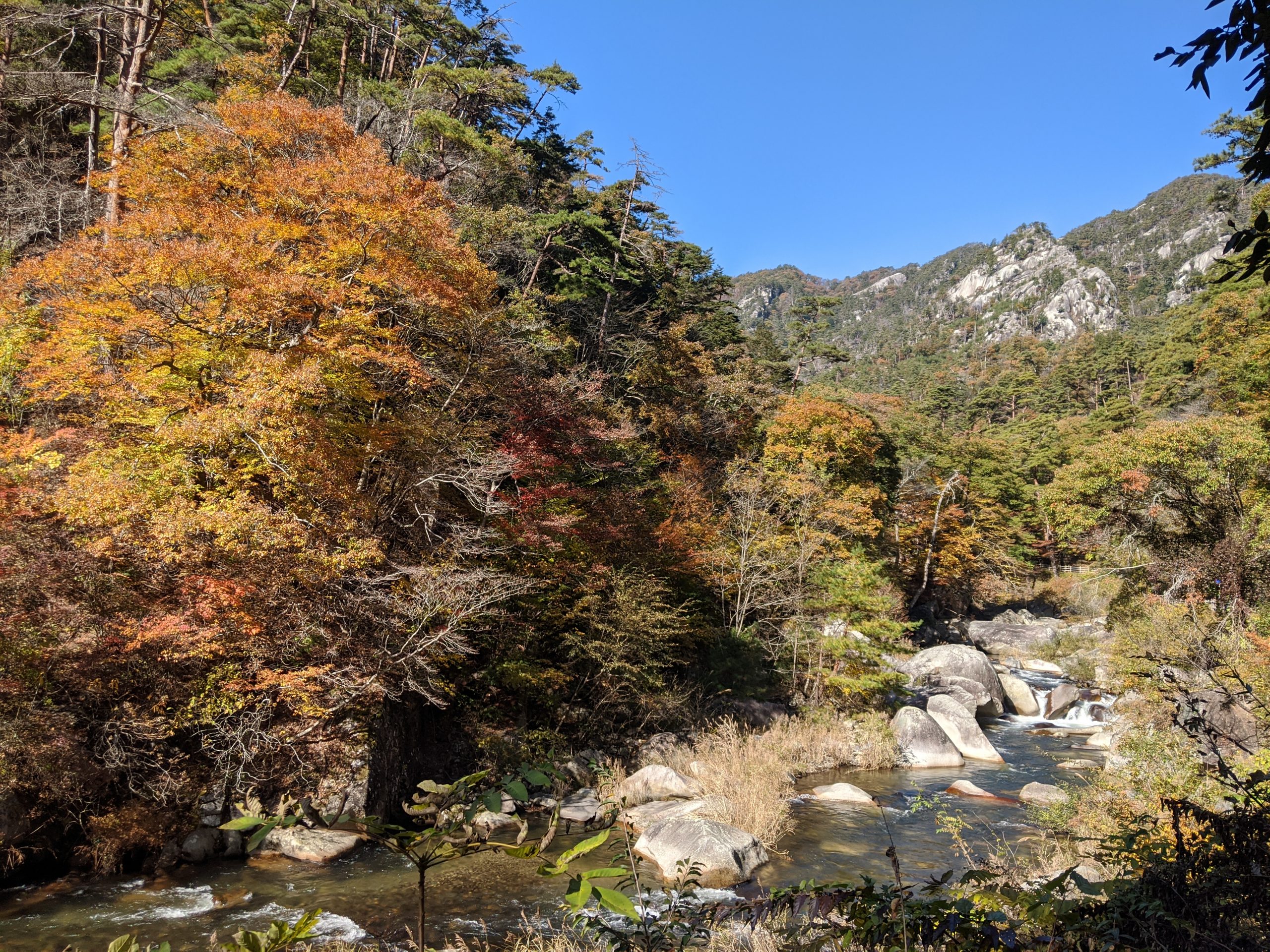 Article Name
Exploring Japan: Day trip to Shosenkyo Gorge (御嶽昇仙峡) in Kofu, Yamanashi
Description
We took a day trip to see the autumn foliage at Shosenkyo Gorge in Kofu, Yamanashi. In the fall, we highly recommend this off the beaten path destination!
Author