TL;DR
We hiked Ougiyama (扇山) to practice hiking for Mount Fuji! It's a moderately difficult hike we highly recommend in cool, overcast weather. Is there any hikes in Japan that you're curious about? Let us know below and maybe we'll hike it or message us to come join us!
Disclosure: This post contains affiliate links. If you click through and make a purchase, we earn a small commission, at no additional cost to you. Click here for our full disclosure!
Since Sara and I are planning to do Fujisan, we wanted to explore a bit of the Tokyo hiking scene. We were originally planning to do the Ougiyama to Momokurayama ridge trail, but the summer heat and humidity coupled with our lack of planning forced us to cut our original plans short.
While we're not avid hikers, we have been known to walk long distances. If you take one thing away from this blog, it should be this: We highly recommend this hike in cool, overcast weather while carrying enough water to keep yourself hydrated (~2L per person).
Overall recommendation
We recommend this hike on a cool, overcast day in the fall or when the azaleas are blooming in April/May.
From Pineapples Difficulty Ranking: 🍍🍍🍍 – 3 out of 5 Pineapples!
*If you're wondering what our difficulty is based on, read about our ranking system.
There are a lot of blogs that rate this as a moderate hike, and we agree – with the caveat that the weather should be sunny / slightly overcast, in the 80's, and you should have ample water. Since we're not the most athletic of couples, we'd also say that this trail is pretty difficult to do during a Tokyo summer, and you should most definitely not do it when it's 90 degrees out like we did or if it's storming.
Hiking Ougiyama details
Overview
Ougiyama (扇山) is a 1,138 meter mountain in Otsuki located within Yamanashi prefecture. It's been designated as one of "Yamanashi's 100 famous mountains" and has one of the best views of Fujisan (when clear).
Total time (transit + trail): ~9 hours
Transit time (train): 3 hours
Transit time (walking to trailhead): 1 hour, 40 minutes
Trail time: 4 hours, 10 minutes
Trail details
Directions to the trailhead
Starting / ending station: Torisawa station (鳥沢駅 Torisawa-eki)
Estimated time from Shinjuku station: 1.5 hours
Estimated time from Torisawa station to 梨ノ木平 trailhead (walking): 60 minutes
If you're coming from central Tokyo, it'll take about an hour and a half on the train to get to Torisawa station from Shinjuku. There's a few ways to get there, so I won't list them all; just use your favorite transit app to figure out what's appropriate for your timing.
We took a Chuo-sen Rapid to Takao and transferred to the Chuo Local Otsuki to Torisawa – it cost us about $12 one way. You can get there cheaper taking the Keio Line from Shinjuku to Takao, but it doesn't run as frequently.
Once you arrive at Torisawa station, it's about a 60 minute walk to the trailhead. As a note, it's about 45 minutes to a small wooden 梨ノ木平 sign which looks like a trailhead, but it's a slight shortcut to avoid the winding road. Watch out for a lot of spiders here! We have a photo of what to look for below.
*There is also a "hiking bus" that can take you from Torisawa station to the Ougiyama trailhead, but it only runs on weekends and holidays from April to July and September to November. This should give you an idea of when it's suggested to hike here, but I definitely wouldn't advise hiking during the rainy season (between June and July). Here's the schedule if you are planning on hiking Ougiyama during those months. As a note, there's no return bus to get back to the station, so you'll have to walk back like we did.
What we brought
I brought my Topo Designs 23L mountain pack, Sara brought a small normal backpack (standard book bag size). They don't make the version I have anymore, but it's similar to this 30L one.
20 oz of water in a H2GO Hawaii Nexus water bottle
Bug spray and sunscreen
1 ziplock of Calbee Fruit Granola
1L Aquarius sports drink (from 7-11)
2 Weider in Jelly Energy In drinks (from 7-11)
Onigiri, chicken + musubi bento, and choco-pan (from 7-11)
Tips
There's a 7-11 a few minutes from Torisawa station. Would definitely recommend stocking up here on onigiri, Pocari Sweat, and Weider in Jelly drinks.
There's a water hole about an hour into the trail. While I can't say that it's 100% safe to drink (and couldn't find any Japanese blogs that said it was ok), there is a lot of signage pointing it out – so we figured it safe. We drank from it on the way down the mountain because we were so dehydrated, and we were fine, but again, your mileage here may vary.
Bring a picnic mat for the summit so you can sit in the shade. There's also a lot of ants at the top, so it's nice to be able to sit and relax on something without wondering if something is crawling up your leg.
Do not take the side trail to the azalea's unless it's during April/May. There aren't any English blogs that mention the azalea path, but a number of Japanese ones did. We took the detour just to check it out because we're curious like that. Since it wasn't in season, there's just a lot of dead trees. There's a guide rope as well because the trail becomes very narrow in places. I've included photos of the detour below. As a note, this detour only goes down from here, so you'll have to walk 10 minutes to the viewing point and walk back to the main trail.
Bring athletic shoes for the walk to and from the trailhead. Walking in hiking shoes is pretty difficult on asphalt. We would definitely recommend doing this if you can afford to carry the weight.

We would not recommend doing this hike in August

when temperatures average 90 degrees. If you really must do it then because of travel plans, make sure you bring at least 2L of water per person.
Do not do this hike in the summer if you want to see Fujisan. If your main goal is to see Fujisan from the summit of Ougiyama, do not do this in the summer as Fujisan is generally covered in haze / cloud cover and doesn't have its infamous snowcapped look.
Pros
If you hike this on a cool, summer weekday, you will probably run into very few people, if any. It's kind of neat sitting on top of a mountain in a metropolitan area of 40 MM people without a single other person around. Kind of reminds me of what a zombie apocalypse might feel like, but without the zombies.
If you like nature like I do, there's a lot of different critters crawling around. If you're lucky, you might even get to see a tanuki!
On a clear day, there are absolutely beautiful views of Fujisan.
Cons
You will run into very few people; while this is also a pro, if something were to happen to you on the mountain, it might take a while to get help. If you're scared of being the only person on a trail, definitely avoid this one during the weekday.
It's a fairly steep trail, and I can imagine that if it were to rain, hiking Ougiyama would be pretty miserable.
The bus to the trailhead runs only on the weekends/holidays during certain times of the year, so it'll be an hour walk to the trailhead and back.
There are a lot of bugs. I'd suggest bringing trekking poles or finding a stick to clear the path when on the shortcut to the trailhead. See our photos photos below. There are a lot of spiders that have made their homes across the path. If not, you'll end up with a lot of spider webs in your hair – trust me, I know.
Photos from the trail

*
*Photos are in chronological order with the first picture being from the start of our hike.
Links we used to research
A lot of blogs don't link to the sites they used for research, but since we're deep divers, here are all the links we used to research hiking Ougiyama in order of usefulness. As a note, there are a lot better Japanese resources than English ones.
Summary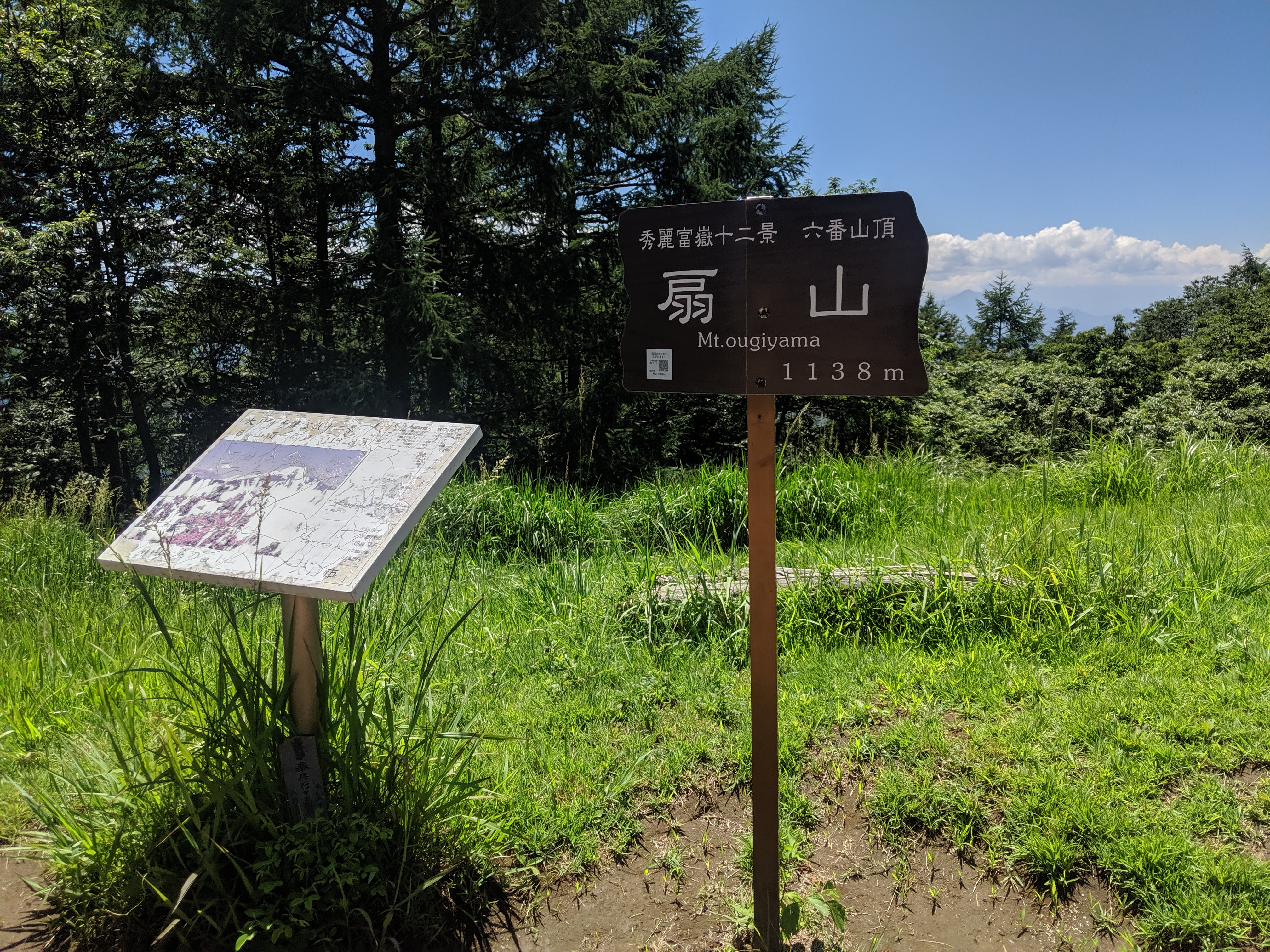 Article Name
Hiking Japan: Ougiyama (扇山)
Description
Hiking Japan: Ougiyama (扇山), a 1138 m. mountain about 1.5 hours by train from Shinjuku, Tokyo. A moderately difficult hike with beautiful views of Fujisan.
Author