TL;DR
Timing is key, making sure you have a guarantor lined up and you're saving money should be first, followed by long lead items (documents from the Department of State and an FBI background check). Also: study Japanese! You'll thank me after you move.
Disclaimer
I'm not a lawyer. All of the info provided is based 100% on our experience. When we started on this journey, we knew nothing and couldn't find any detailed info anywhere, so we thought it'd be something helpful that we could share. Yes, we paid an immigration lawyer that was based in Japan to help us through this process. And yes, I think it was worth every penny.
Can you do it on your own? Maybe. I didn't go to the immigration office (our lawyer said we didn't need to go, and that it would likely take at least 4 hours), so I'm not sure what the language barrier there would be like, but I imagine if you really needed to, with the help of google translate, it's possible. We'll know more after we go in to apply to renew our Visa in February!
This is part 3 in an epic series of Getting our Japanese Long-Term Resident Visa (Ancestry Visa). See below for all posts:
Application Process and Timing (this post)
Physically being in Japan when you apply
To be honest, I'm not 100% sure this is necessary. This is just what our lawyer asked us to do and told us it was necessary. I think she also wanted to go over all the documents and wanted to make sure I was physically there to go to the immigration office if there were any issues. She also listed the hotel I was staying at on the application form, so maybe it IS required. If anyone's completed the process without flying in, let me know in the comments!
Study Japanese!
I honestly wish I took this more seriously before we moved. Maybe I wasn't 100% sure we were actually moving, or maybe I was just lazy (probably the latter), but while I did glance at things occasionally, I never sat down and really studied. The struggle was pretty real when we actually moved, and if I could do it all over again, I would've definitely buried my head in the books as soon as we started THINKING about moving. 😂
Timeline / Timing
Honestly – I wish I knew all this upfront. Our process could have been done in WAY less than a year and with far fewer headaches and stress. But *shrug*, that's life! Below is basically the list from How we got our Long Term Resident Visa (Ancestry Visa) for Japan – The Documents (Part 2), rearranged for a faster timeline (and quicker timing).
Step 1
Start saving money

Apartment fees in Tokyo are notoriously high and you typically spend upwards of ~5 months of rent up-front (agent fee, key money, first month's rent, security deposit, guarantor fee).

Figure out what documents you already have.

If any of your missing ancestry documents require a request to the Department of State, do this now.
If you're planning to snail mail in your request for an FBI background check, do this now.

Koseki Research: determine the hometown of the first generation
Start reaching out to friends in Japan.

I can't stress this enough, since finding a guarantor took us the longest. They need to be a Japanese National and (most importantly) be willing to be your guarantor!
Once they agree, let them know what documents you'll need and when you'll be requesting.
Find photos together
Step 2
Request local documents
Create Family Tree document

They really just need name, marriage dates and birth/death dates. See this form for what ours looked like. (It includes Japanese translations)
You'll use this in the Koseki request as well as in your Certificate of Eligibility Application.

Make sure your documents are up to date

Passports need to have at least 2 blank pages and should not expire within the year
Also renew your license and look into getting an International License if you plan to drive in Japan (I did not, I don't even trust myself driving in the States)

Start filling out Certificate of Eligibility application form. Most of this was obvious, but for the questions that I was unsure about, I'll include our application answers below:

Date of entry (#12): The date you expect to move to Japan. We assumed ~1 month to receive our CoE and Visa and wrote 2/1 (we applied 12/20)
Port of entry (#13): We wrote "Narita (or Haneda)"
Intended length of stay (#14): We applied for the 5 -year Visa, but ultimately got a 1-year.
Intended place to apply for Visa (#16): The Consulate General of Japan in your hometown.
Past entry/departure from Japan (#17): you only need to list your most recent (which should be when you fly in to apply) but you'll need to know the total number of times you've been and those dates as well.
Family in Japan (#20): this is immediate family, and I included my husband even though he wasn't there yet. For the employment and Residence Card number section, we just wrote "N/A (applying)

Immigration card received? Make an appointment with the Japanese Cultural Center of Hawaii (hopefully you have one of these where you live and they offer these services!)

They'll fill out a form to request the Koseki, address all the documents and have everything ready to go.
Wait until a month or two before you are planning to apply to request this, as it only has a shelf life of 90 days. From my experience, they turned it around in 2 weeks.

Ask your employer for a Letter of Employment

If you'll continue to work for them while you're in Japan.

Write your letter of reason.

This shouldn't take long, but you MAY want to have it translated into Japanese by a trusted friend (or translation service). Our lawyer did it as part of her fee.

Start looking at flights/accommodations (for when you apply for your CoE)
Step 3
Make copies of your original documents

As well as copies of your Passport and ID
You won't get them back if you don't have a copy to submit with your application

Take a photo

This needs to be 4cm x 3cm with a plain white background
It'll be the photo they use on your Resident Card when you move, so make sure you like it!

FBI Background Check

If you opted for the electronic background check, then this is when you should have your fingerprints scanned. Our results were returned in 24 hours.

Request documents from your guarantor

Signed Letter of Guarantee
Current Certificate of Residence (Juminhyo)
Company Information

Make copies of bank statements

#LookHowMuchISaved #IReallyWantToLiveInJapan 😁

Book flight/accommodations
Step 4
Apply for your Certificate of Eligibility

Can't say I know the ins and outs of this, but we'll be applying to renew our Visa next month, so we'll let you know!

Receive Certificate of Eligibility
Apply for Visa

Head down to your local Consulate General of Japan and submit your Visa application along with the following documents:

Current Passport with at least two blank pages
Passport sized photo (2×2) – attached to your form with GLUE
Certificate of Eligibility

Once you receive your Visa – Move to Japan!

Which is a WHOLE NOTHER process. One that we'll dive into next week! 😂
It's a bit hilarious how applying for the actual Visa is a piece of cake. Literally, one form, a few documents and a week later, you have a visa in your passport giving you entry to live in a new country. The Certificate of Eligibility is a time-consuming process that makes that final step super exhilarating and exciting.
I made a "perfect world" timeline where you don't have to wait on the Dept of State for anything – and theoretically, you could go from research to moving in as little as 5 months. Haha. If only, right? Well, if you were aggressive enough, maybe? Image below, PDF download here.
That's it!
If you made it this far and you're not slamming your head into a table, congrats! Haha. Here are links to the other parts of our story, if you're ready for more:
Application Process and Timing (this post)
Summary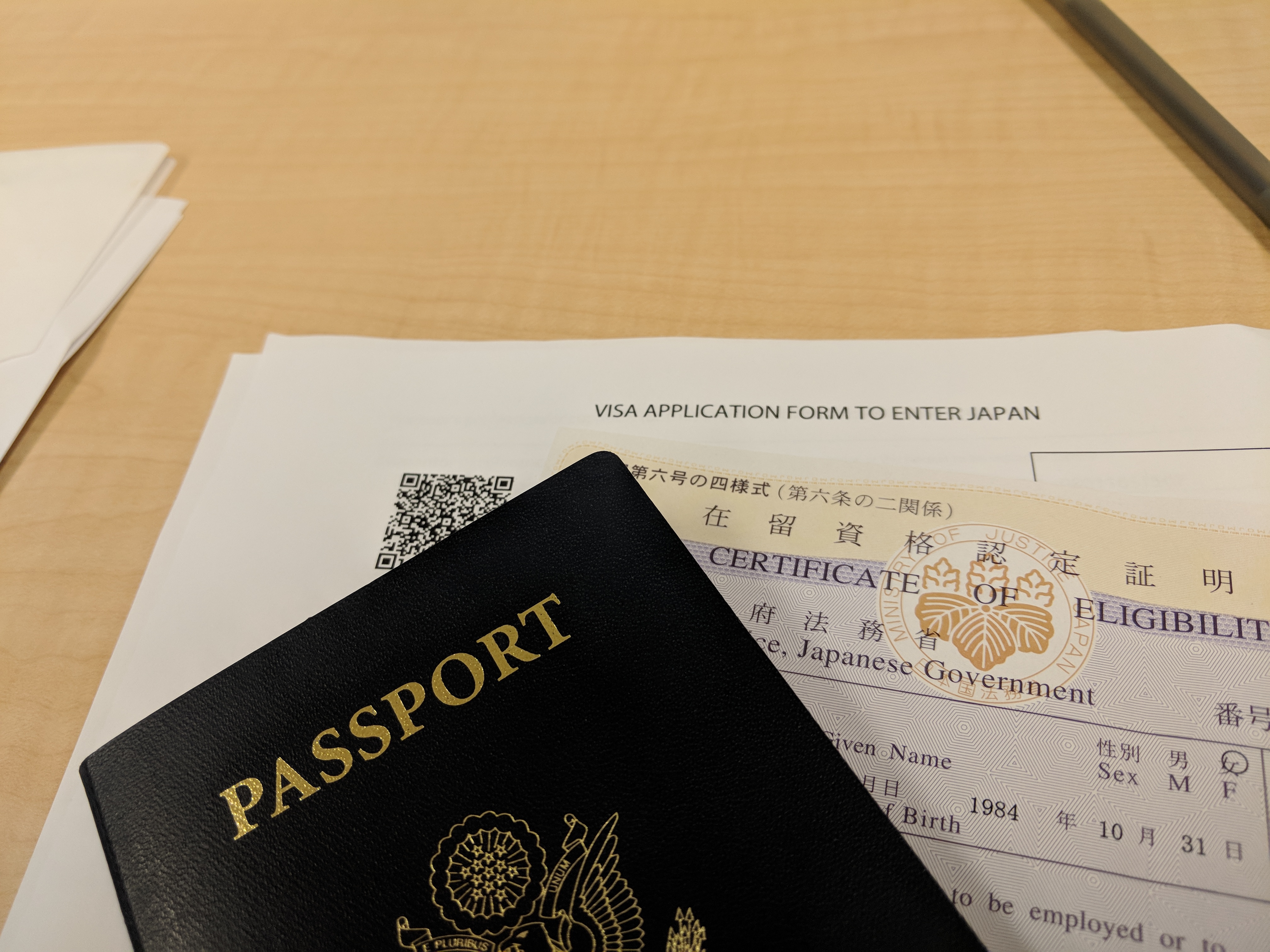 Article Name
Getting our Long-Term Resident Visa (Ancestry Visa) for Japan - The Documents (Part 3)
Description
A breakdown of timing for the documents you'll need to get your Long-Term Resident (Ancestry Visa) for Japan! Includes checklists and template docs.
Author