TL;DR
Modern Toilet is a theme restaurant that revolves around toilets, bathrooms, and everything poop. The food is decent (nothing to write home about), but the decor is #worthit. There are some novelties that are best experienced first hand!
I'm sure you're extremely concerned for my health right now and trying to think if you've shared food/drinks with me since we've been back from our trip. Right? Lol.
So we're sitting on the train and Ryan tells me that he really wants to check out this "poop restaurant". Of course, I'm in. We decided we'd check it out as soon as we got into Taipei, but our plans were foiled by an 11am open time (note to self: check opening times!).
Getting there
Since we were early, we meandered to the nearby Lungshan temple and when we were done decided to hop on the train for the quick one stop ride to Ximen station. From there it's just five minutes, using Exit 6, walk 2 blocks North on Hanzhong Street then West until you see: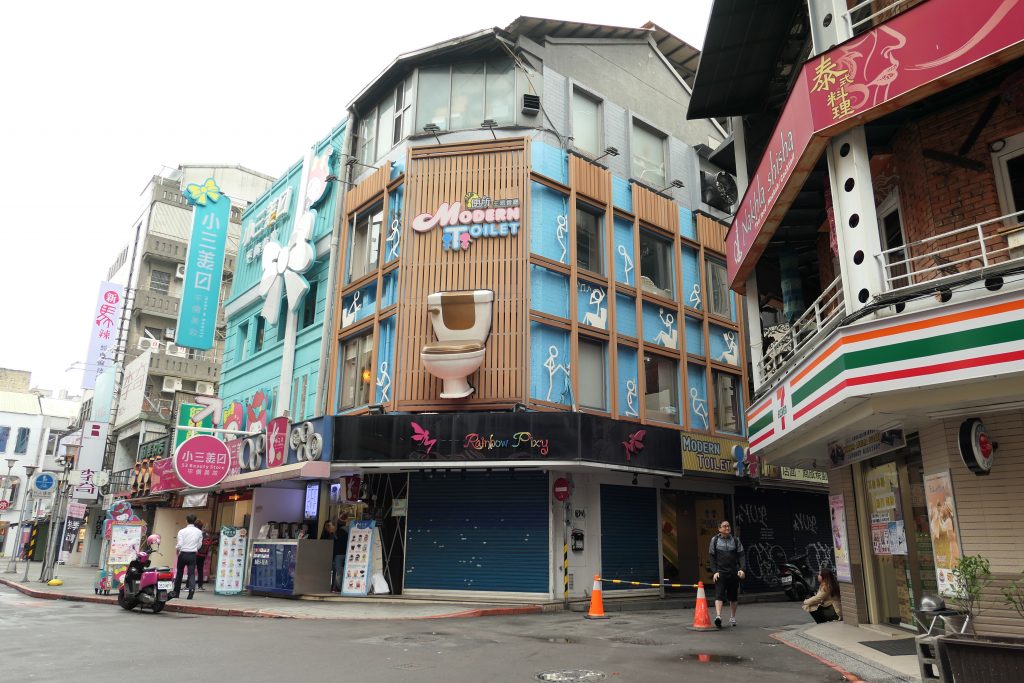 Look at that building! So epic. We knew that there were only good things to come. Walking in, we realized the restaurant is pretty big, with multiple floors and seating for small and larger parties.
Yep, even the bathrooms are extra special. You sit on toilet seat chairs, over a poop bowl table and walk into the building to a chorus of interesting noises. We are obviously not normal since after this we were still starving and ready to order.
The food comes in various forms of poop and other bathroom paraphernalia. We ordered the ham & cheese stuffed chicken meal, fries, poop bread and ice cream. They have a ton of different things to choose from – everything from hot pot and curries to spaghetti and au gratin.
Totally forgot to take photos of the menu, but found these pics on the internets.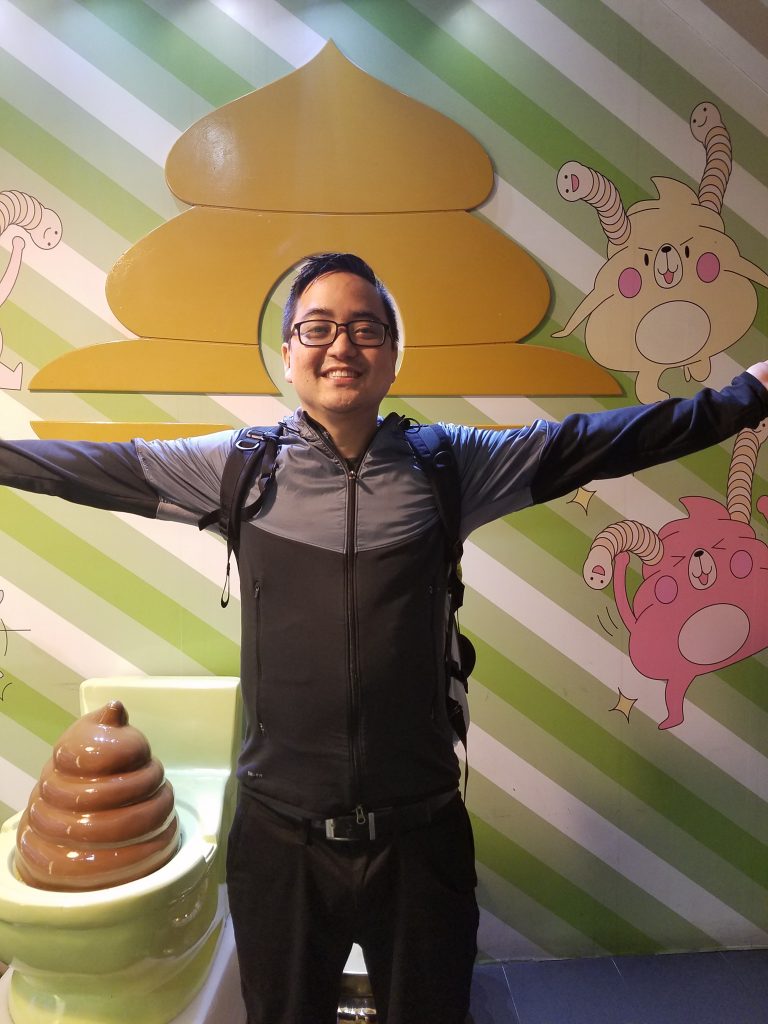 Overall, the food was good, but the experience was better. They had menus in English, but attracted a crowd of both locals and tourists alike. I would suggest coming early, since by the time we were leaving (closer to noon) it was starting to get crowded.
Modern Toilet (便所主題餐廳)
No. 46, Xining South Road, Wanhua District, Taipei City, Taiwan 108 / +886 2 2311 8822
Yelp / Trip Advisor
Hours: Mon-Fri 1130am – 10pm / Sat-Sun: 11am-10p